---
Welcome to
the Museum of Forks
Pitchfork fans from Lichnov - or forkies, to be more accurate - are proud to announce that they have founded a unique and authentic Museum of Forks

Currently, pitchforks, exhibits, and documents about pitchforks are being collected.
As of today, we have collected from gracious donors:
381 fork exhibits.
The target number is: 1111
The museum exposition opened to the general public
on 16 June 2012

The fork-gathering is a historically unique opportunity. We offer all pitchfork owners, fork finders and heirs to the fork with or without a handle, at any stage of wear or wastage, including scrap-like or similar, rusty, repaired, in any condition whatsoever, a life-long haven for their pitchforks. The donor becomes an Honorary Member of the GALLERY OF FORK - DONORS, entitled to add "FORKIE" (or "OF FORK") to their signature and on their business cards. Any related information or realia connected with pitchforks, pitchfork science or forkology is heartily welcome.
2013-01-08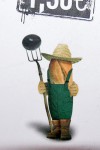 We set out for a hunt for forks and fork people living on the Iberian peninsula during the Christmas holiday (18 Dec 2012 - 4 Jan 2013). We planned to visit Catalonia, Valencia and Andalusia. Let me share with you our encounters. For example, together with our Spanish ambassadors, we made a great discovery, a traditional pitchfork in Seville. And we went for a short visit to Portugal, too!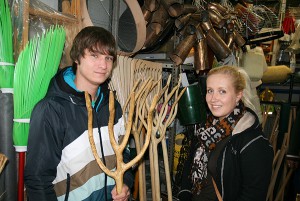 2012-03-29
Quest of getting information about pitchfork and such.