---
Our Trip to Spain
Our Trip to Spain
(or Hunt for Forks and Fork People on the Iberian Peninsula)
During the Christmas holiday, me and my family were travelling. We set out to search for forks and forkies living in Spain - Catalonia, Valencia and Andalusia. We landed in Barcelona on 18th December evening. Our Tess, now a student at the university in Huelva, was waiting for us. Together we travelled accross Spain. And we went for a short visit to Portugal, too. By car, between our arrival to Barcelona and departure from Sevilla on 4th January, we covered 3000 km ... You might have expected us searching for forks to pick olives or tangerines while celebrating Christmas of New Year's Eve. We did celebrated, too. But now, let me offer you our most valuable findings: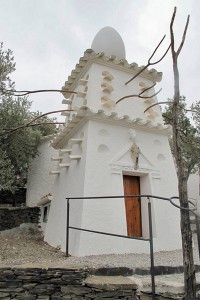 The tribute to the fork by Salvador Dalí, Port Lligat, Cadáques (Catalonia), near his house.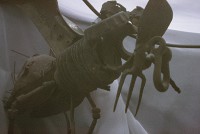 ... and the organza on the top floor of the Teatro-Museo Dalí, Figueres, was hiding this insect monster made of scrap iron.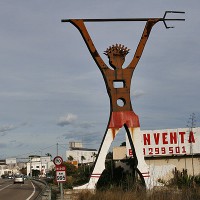 On the way from Barcelona to Valencia, you would not miss the town of Orpesa. This guy wearing stripy socks...he is so sweet!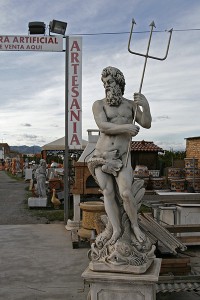 Local shops with china and ceramic garden decorations, it was a dream! Go buy your garden forkie. There were so many, and they were just awesome! The bigger the better, of course, the dwarf size is out of fashion, you know :)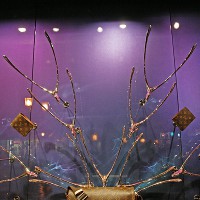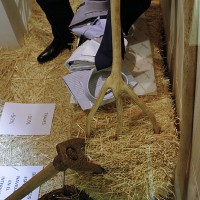 Valencia convinced me of the fact that pitchforks have settled in the fashion world. In the Christmas collection by Louis Vuitton, snow flakes were replaced by two-prong forks. The shop windows were full of wooden, three-prong forks - and the digging forks were thrusted in the straw bales literally at every corner. However, the lady fashion is moody so when you arrive there, these wonderful exhibits will be who-knows-where..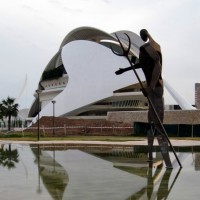 The building in the futurist style, Calle Ciudad de las Ciencias, does resemble an electric ray. It is guarded by a forkie.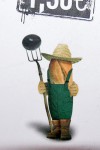 In Valencia, Seville and Huelva, in the Spanish fast food, Cervecería 100 Montaditos, we tried baguettes with a variety of local specialties. The menu included a special offer for fork people, ...with olives :)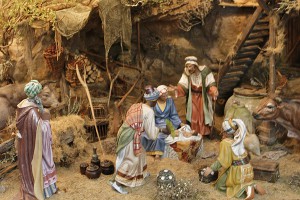 When Jesus was born, the fork was there. No wonder, it was in the shed... I would love to know if it was a gift ...there is absolutely no mention about it in the archives :) This little detail was greatly depicted in the nativity scene in Cordóba. The artist wanted to play it safe, so you can see not one fork but two of them!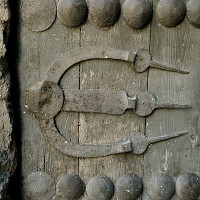 The symbol of fork in Cordóba, on the door of the Palacio Episcopal (former bishop's palace, now the information center), just opposite the Mezquita.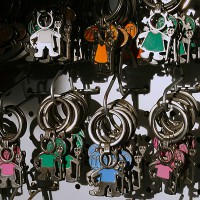 The souvenir shop nearby offers stylish key rings for men and some special ones for ladies too. I discovered one of them under the Christmas tree (Christmas palm).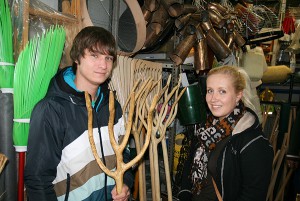 In Seville, we met our ambassadors in Spain, señor Prokop and señorita Tess. And we came across a hardware shop which offers these marvellous wooden pitchforks. I googled out that this is a traditional type of pitchfork, manufactured in the mountains near Valencia by a family factory in the head of Miguel y Carlos. They even grow their own little trees for this purpose, Celtis australis, a relative to our elm. As for the technology, it is similar to the production of bended furniture (learn more here).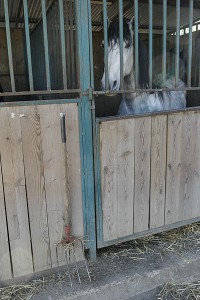 Our visit at our colleagues, Andalusian farmers in the Doñana National Park did not earn a new exhibit for our museum but we made a picture of the only fork they own, and I enjoyed a ride on the horseback across sand dunes.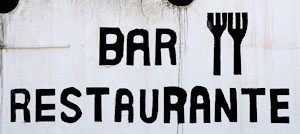 The restaurant at the Mazagon campsite was closed as it was a between-season period so I couldn't ask if they meant this seriously..just look at the very special set of cutlery. Maybe their menu offers a farmer speciality "From the pitchfork to the fork"?
We went for a short trip to Portugal, too.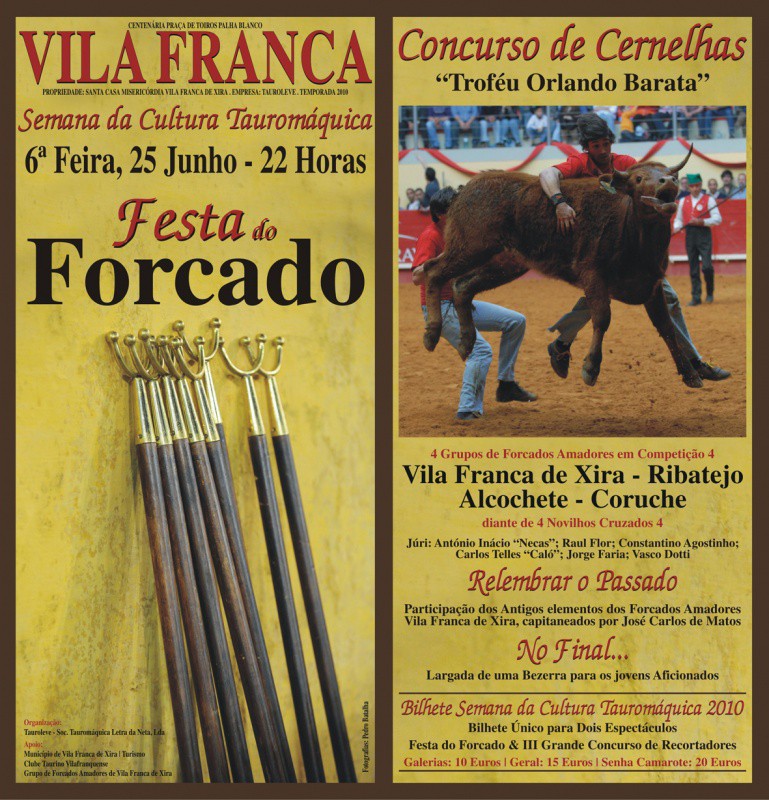 It was no big success. I was looking forward to meeting real Portuguese forcados, who use these very special forks. We had tried to contact a Portuguese association called Forcado Amador and their branch in Lisbon but there was no response. And, it was after the season, so we couldn't see this wonderful tool in the flesh. You can find more detailed information about forcados and their forks in Portuguese or in the Googlish language if you click on the translator here.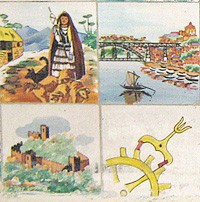 In Lisbon, we discovered this nice wall, it was a café. Look at this beautiful helm with the special fork-shape gadget. Unfortunately, I don't have any background information about it..