---
Info for Pitchfork Donors
HOW TO DONATE A FORK TO THE MUSEUM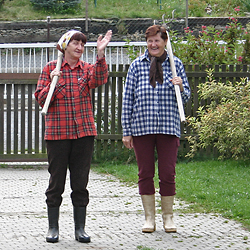 • Face to face, when you
visit the museum
(contact us ahead of time, thanks).
• Visit our collection point. If there is none within your reach, you can establish one. We can send you the collection point certificate, another highly sought-after recognition.

• Send us your fork
by postal service
. Kindly attach your photograph with the pitchfork you want to donate and add the fork's life story. Both the photo and the story can be sent by email.
• If you use your fork just once a year, you can lend your pitchfork to the museum. For example, if you are a St Nicholas' devil or Neptune or Shiva on Mardi Gras Day, you can retrieve it from the museum when you need it.